Hoa Apex'14: What a fantastic community!
Written the .
Hoa Apex is a dedicated event to the community of Hoa, where contributors, main developers and big users meet each other. This is a unique moment to share ideas and projects together.
This is also a wandering event, it means that we try to go towards contributors as most as possible. One year and half ago, Hoa Apex'13 took place near Neuchâtel in Switzerland. This year, Hoa Apex'14 took place in Marseille in France, in the home of VeryLastRoom, our main sponsor.
The schedule was the following:
16th August, from 9h to 12h30, two keynotes about Hoa,
16th August, afternoon, "team building" and an awesome restaurant,
17th August, from 9h to 12h30, discussing about Hoa, opened and future projects,
17th August, afternoon, saying goodbye.
The event has been partly streamed live. One keynote has been recorded and is available. More informations on the main page of the event. This article presents a short summary of this event.
What a year!
The first keynote was Hoa Apex'14, what a year!. This keynote presents the state and the evolution of Hoa since Hoa Apex'13 (March 2013) in term of community, source code, contributions, sites, documentations, events etc.
Bigger community
To sum up, we have twice more contributors (from 19 to 38 contributors) with 4 new hoackers. On Github, we have more than 460 watchers and more than 230 forks. On Twitter, we have more than 540 followers. On Composer/Packagist, we have approximately 14 times more downloads (more than 140 000)! The community at large represents more than 860 persons.
We have also new big users:
Contribute to other projects
We have also made official contributions into two projects:
Foundation and sponsors
Hoa Project is a non-profit foundation aiming at supporting the Hoa project by developing, deploying and promoting the free softwares from Hoa Project, its derivates and associated projects.
This foundation has been created few months ago and several sponsors have joined us in our "mission":
Thank you for all your support!
Translation into English and visibility
Translating the website and all kinds of documentation into English has been very beneficial. 60% of the traffic now comes from outside France! We have 10 times more visitors and 40 times more countries, which is pretty logical but important.
How do we ensure code quality?
The second keynote was Hoa Apex'14, how do we ensure code quality?. This keynote presents our "team" that helps us to automate quality in Hoa. This was also the opportunity to present our last tool: Le Comte Intatto. We are going to write a longer article about this tool as soon as possible. This is still in development but we are going to deploy it in few weeks. Thus, the team is composed of:
Git and Bhoat which maintain the source code,
Marvirc which helps us to be notified,
atoum and Praspel for the tests,
Le Comte Intatto for the CI.
It was the opportunity to finalize our rolling-release vision. We are going to also write an article about this but to summarize: Hoa is going to have a part- and true-rolling release philosophy, mixed with a scheduled-based release. We did not find a buzzing term for that yet however you have to understand that Hoa is going to be rolling-released but with tags! It is for sure a great news for all Hoa's users which rely on Composer to deploy their softwares.
Team building
Hoa Apex is a community event but not reserved to contributors only. Indeed, contributors are gently invited to come with their companion and children. For this second edition, we have the confirmation this is a good idea. It is a friendly event and it helps to know each other better.
The main activity consisted of a walk into the Calanques, which is rocky stretch of coast with deep inlets, at the east of Marseilles, and a restaurant. The walk ended on a beach.
The restaurant serves speciality from Marseille, whose the famous Bouillabaisse!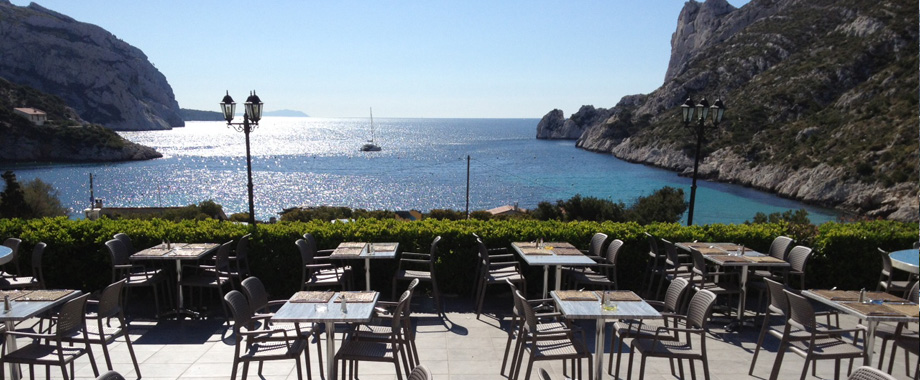 This year, the goodies were a pétanque ball with "Hoa Apex'14" engraved on its surface.
Conclusion
This second edition of Hoa Apex has been a success. Hoa is growing like never before and we see concrete results. New projects are going to be deployed, along with a better communication (you will see it on this blog by yourself). In short: thanks a lot for your presence, usages and feedbacks! Keep going!
Comments